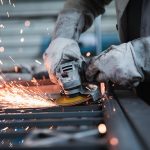 According to the survey-based S&P Global India Manufacturing Purchasing Managers' Index (PMI), manufacturing growth in June showed a slight moderation. The index decreased from 58.7 in May to 57.8 in June. However, despite the moderation, new orders experienced rapid growth, leading firms to increase production at one of the fastest rates in 18 months. Alongside this, output charges were raised at the quickest pace since May 2022.
June marked the 24th consecutive month with a PMI reading above 50, indicating expansion in Indian factories. In response to strong demand and increased output, firms hired additional workers, though at a moderate pace similar to May. Overall business confidence among firms reached a six-month high, as reported by S&P Global Market Intelligence.
While factory orders in June showed one of the strongest increases since February 2021, the positive demand dynamics and higher labor costs contributed to charge inflation reaching a 13-month high. However, the growth in export orders moderated compared to May 2023 levels.
Despite raising prices for customers, manufacturers experienced one of the lowest rates of input cost inflation in three years. Consequently, they procured fresh raw materials at the second-fastest pace in over 12 years, reflecting their optimistic and proactive approach to capitalize on favorable market conditions and support production growth, stated by Pollyanna De Lima, economics associate director at the firm. The increase in output charges demonstrated firms' ability to pass on higher cost burdens to customers while maintaining competitiveness.