Introduction
Diverse and Inclusive workplaces allow employees to work together as equally valued contributors. Workplaces that prioritise diversity and inclusion efforts have been statistically proven to be safer, happier and more productive work environments. The Bombay Chamber's Diversity & Inclusion Committee was formed to help members establish supportive and welcoming workplace environments, where employees of all backgrounds and demographic characteristics can work together.
Vision
Our vision is to develop and nurture inclusive workplaces where everyone can reach their full potential; to promote equal access and opportunity and advocate for policies that promote diversity and inclusion in the modern workplace. Our goal is to help companies remove barriers to gender and social equality and create inclusivity for special needs employees.
Mission
Create awareness about DEI among member companies through webinars, conclaves and workshops
Empower individuals from underrepresented groups and invite them to participate in our mentorship, vocational training and skill development programs.
Honour companies for their pathbreaking DEI initiatives.
Be the Change.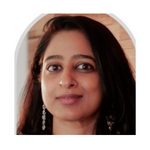 Ms Meenakshi Priyam
Group CHRO,
Udaan
Committee Secretariat Details