Introduction
Bombay Chamber promotes the Corporate Social Responsibility (CSR) amongst its members. CSR is the responsibility of an organization for the impacts of its decisions and activities for society, the environment and its own prosperity. CSR aims to ensure that companies conduct their business in a way that is ethical. This means taking account of their social, economic and environmental impact, and consideration of human rights. A business plan, embedded into the business culture, reflecting organizational values and objectives through strategic CSR application, will help to build a sustainable and profitable future for all.
Vision
We want to inspire and unite our business community in a common vision of a sustainable, just and profitable future.
Mission
To facilitate designing organization CSR Policy, Strategies and Actions aligned with sustainable development goals and integrating with business and values of the organization
To provide training and direct assistance
To provide opportunities for networking to boost the partnership among the corporate / Industry.
To create platform for sharing and learning from the peers.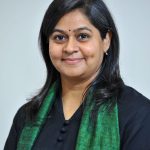 Aloka Majumdar
Head of Corporate Sustainability, HSBC India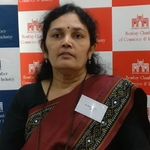 Dr. Meena Galliara
Director, Jasani Center for Social
Entrepreneurship & Sustainability Management, NMIMS